Self-Storage in Blackpool, Lancashire
Price Match Promise:
We will match like-for-like storage space within 10 miles of any of our locations.
Flexspace Blackpool: Self-Storage Units in Lancashire
Welcome to Flexspace Blackpool Sycamore Industrial Estate in Lancashire. Where we offer storage units for all clients in the local area and beyond. Our units at this location are:
Spacious

– we can offer 25 sq ft, 50 sq ft, 100 sq ft and more to suit any storage requirement

Flexible

– our contracts are of varying length and customers can easily increase their capacity should the need require it

Easy to Find

– this location is very close to the M55 and airport and ideally placed to get to

Accessible

– with convenient parking it is easy to visit and drop off or collect your belongings

Secure

– we have CCTV across the park, as well as within the storage area. All our units have a single key, which is retained by our client.

Competitively priced

– we are confident our storage is cheap when compared, and are prepared to match any price within a 10 mile radius.
So why not pay us a visit and see whether we have the right space for you. Contact us or call 0800 033 4444 to discuss your requirements.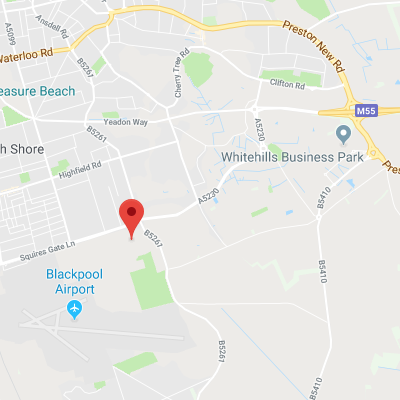 Flexspace Blackpool Sycamore Ind Estate
Sycamore Industrial Estate
Squires Gate Lane
Blackpool
FY4 3RL
View Map
Flexspace Blackpool: Other Services at this location
As a multi-purpose business park, Flexspace Blackpool has a number of other services to offer visitors.
If you would like to explore what we do, then please visit the Flexspace site to find out more:
Want to Visit, or Ask Any Questions?
There is only so much you can find out about our services by browsing the website. If you want to arrange an appointment to discuss our storage solutions and take a look at our facilities, then please contact us.
Self Storage in Bellshill, From £55 plus VAT per Month
Flexspace Blackpool Sycamore Industrial Estate has a wide range of storage units on site for private storage or business use. It offers room for almost any need, from filing to furniture.
Up to 50 sq ft (shed sized) is suitable for a substantial number of boxes and some smaller home or office furniture or items.
50-100 sq ft (large van) is perfect for a number of larger furniture items, boxes and other items you need to keep safe.
100-200 sq ft (container) is the perfect space if you are storing furniture and goods from a small home (2-3 rooms) and, if stacked well, can contain a large amount.
200+ sq ft (one or more containers) at Flexspace, flexibility is key. We have units all the way up to 2,000 sq ft for storage use. We can go as large as you need – even if you are wanting to store the contents of an office or house, this can be done.
Simply call 0800 033 4444 and discuss your needs with us, or book a visit. We're sure we will make space for you.
Looking for More than Just Storage?
Now we have joined forces with Flexspace, we have become a part of a much larger organisation and therefore offer more than just Storage for our clients. We offer office space (co-working as well as rented space), workshops, warehouses and virtual offices.
If you are based near one of our locations, then you can explore more about them on the main Flexspace website: